Miguel Caballero: Scaling Your Business Worldwide: October 23, 2020
Are you looking to scale your business for worldwide reach?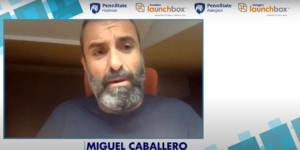 Note: This webinar will be conducted in Spanish only.
Watch the webinar here: https://www.youtube.com/watch?v=GUOmgdYC35s
Part of the Hazleton and Abington LaunchBox Webinar and Instant Access Learning video series.
Do you have a brand, product or ideas and want to establish partnership that allow you to grow join us with Miguel caballero to have a conservation about it. About Miguel: Miguel Caballero is a serial entrepreneur with about 18 years experience building tech companies in the infrastructure, edtech and blockchain ecosystems. He co-founded Neomedia Wireless, an engineering firm specialized in wireless infrastructure, which provided consultancy services to the city councils of Madrid, Barcelona, Valencia, Zaragoza and IT companies like Indra and Orange. Since 2013, he is the founder and CEO of Tutellus.com, an edtech P2P platform in Spanish-speaking countries. More recently, he co-launched Tutellus.io, an innovative, decentralized blockchain-powered edtech platform that tokenizes the education system based on collaborative and incentive-based models.